Airport Therapy Dogs have landed at Aéroports de Montréal (ADM) and will make your unexpected layover less RUFF. 
A team 30 dogs have joined the Aéroports de Montréal (ADM) team, but this group is not in some back office.
These are the adorable airport therapy dogs roaming around the terminals looking to give you some fast love.
Even a few moments of companionship can be a definite mood changer – who doesn't want more of that?
RECOMMENDED:  Pre-flight Jitters? 5 Benefits of Airport Therapy Dogs
If you can get into a better mood, you can get a better layover experience. Simple as that. Don't believe it? There is evidence that petting dogs can help reduce stress among many other things.
Called YUL Pet Squad, this initiative is much appreciated by passengers who may be somewhat nervous or anxious in an airport environment.
Initially implemented as a pilot project in collaboration with the Companion Animal Adoption Centres of Québec (caacQ), the squad is now a permanent program. A new way to get some wellness on the fly is always good news.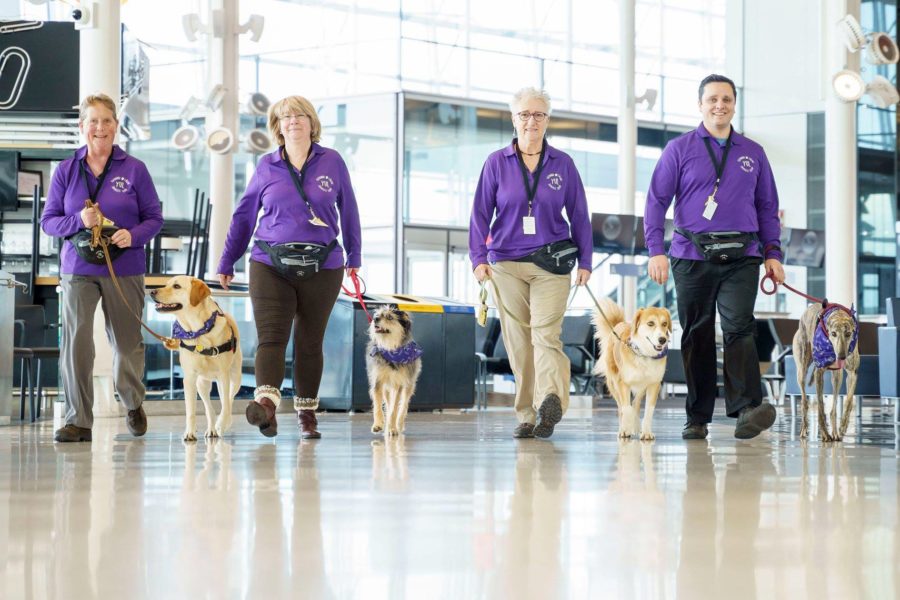 What you need to know about the YUL Pet Squad
• Look out for the YUL Pet Squad in the international and domestic areas of the airport.
• Don't worry if you have allergies or phobia to dogs; volunteers let passengers approach the dog.
• The caacQ coordinates and selects the dog handlers, ensuring that they meet ADM's security criteria.
• Pet owners/guardians are performing this activity on a volunteer basis.
• Each volunteer has completed a two-hour training course and visited the site with their dog to assess its comfort level in an airport setting.
Congrats to the volunteer and their dogs. We're excited to hopefully meet soon in our travels.
Follow our dedicated #airporttherapydogs social media pages for some daily puppy love at airports globally.  You can follow #airporttherapydogs on Instagram, Twitter, and Facebook.
Got an airport therapy dog story you want to share with us? Let us know in the comments below and tag #airporttherapydogs to help make layovers less RUFF.