Airport barbershops are around just in case you didn't have time to shave or style your hair before rushing off to catch your flight. We have found eleven airport barbershops to get you groomed before you fly at various airports around the world.
Gentlemen, it's your turn in the spotlight!
There have always been women's grooming in the airport – think nail salons, spas, blow out bars – but men have been left in the dust with nothing but a shoeshine.
Things are rapidly changing, with barbershops becoming prominent fixtures in airports as well as menswear accessory vending machines like Cuffwear in the Detroit Metropolitan Airport.
 RECOMMENDED:  Virgin Atlantic Clubhouse Spa Now Features a Facial for Men
Could this be a new era of old-fashioned glamour and style?
We've rounded up the best spots to get shaved, groomed and trimmed at the airport.
13 airport barbershops to try on the fly 
LOCATION: Close to Terminal 2, on the way to the World Trade Center
HOURS: Monday to Friday, 10 am -5 pm
CONTACT: +358-9-822206
LOCATION: Domestic terminal
HOURS: Daily, 5:30 a.m.-10:30 p.m
CONTACT: +404-855-5203
LOCATION: Terminal 2 – Level 04 – Departure, Gate G
HOURS: Daily, 6:30a.m. –  9:00p.m.
CONTACT: +49 89 975-9 45 60
LOCATION: Upper-Level post-security
HOURS: Monday to Friday, 9:00a.m. – 5:30p.m; Saturday, 10:00a.m. – 4:00p.m. and Sunday, by appointment only
CONTACT: +716-237-0000
LOCATION: Domestic Terminal 1 1F, Market Place 27
HOURS: Daily, 9a.m. – 6p.m.
CONTACT: +03-5757-1021
LOCATION: The bottom level of Terminal 2
HOURS: Mon-Fri: 9am-7pm; Saturday: 10am-5pm and Sunday: 12pm-5pm
CONTACT: +773-686-9000
LOCATION: Post security, Terminal D
HOURS: Mon-Sunday: 7 am-7 pm
CONTACT: +234-812-28888-68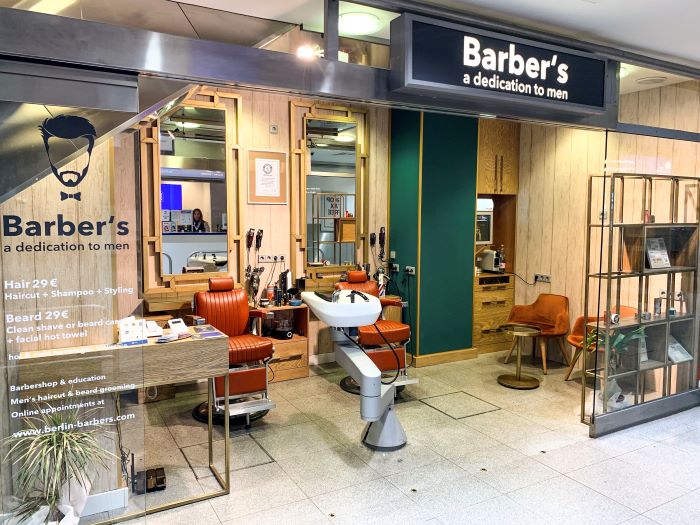 LOCATION: Pre- security, Terminal A, between gate 15 and 0 next to the tax-free offices
HOURS: Monday-Sunday: 9 am-7 pm
CONTACT: +49 30 4101 4080
9. Heathrow Airport, Bradley Smith Hair Express Bar
LOCATION: Terminal 5 Arrivals
HOURS: Monday – Sunday: 7:00 am – 7:00 pm
CONTACT NUMBER: +44 (0)20 7859 4189

10. Cleveland Hopkins International Airport, Aircuts and Day Spa
LOCATION: Main Concourse
OPENING HOURS: Mon – Fri 6:00am – 7:00pm, Sat-Sun 7:00am – 5:00pm
CONTACT:  216-331-2195
LOCATION: Jewel of Changi mall which is connected to all terminals
HOURS: Open Daily, 10:00 am – 10:00 pm
CONTACT: +65 6388 0201
12.  Chhatrapati Shivaji Maharaj International Airport, Mumbai, NS Style Salon
LOCATIONS: Mumbai Airport, Two locations: T1 Departures and  T1 Domestic Departures
HOURS: Open daily, 10:00 am – 10:00 pm
CONTACT: +91 8657558518 (T1 Departures) and +91 8657509162 (T1 Domestic Departures)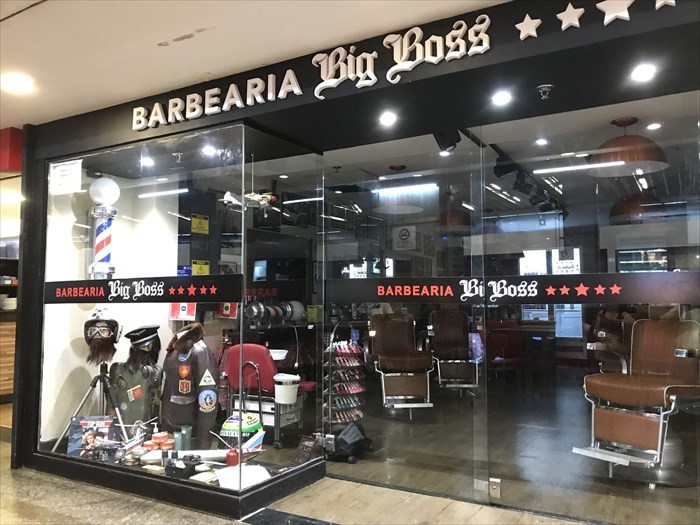 LOCATION: Terminal 2, Departure Floor – West
HOURS: 7:00am- 10:00pm
CONTACT: (11) 2713-6438
RECOMMENDED:  Airport Massage: 10 Reasons to Get It and Not Regret It
We do our best to keep our lists up-to-date and cannot guarantee that they reflect the current airport offering. Changes at the airport can frequently happen and without notice. Please contact us with any feedback, or if we missed an airport barbershop.
UPDATED: Feb 11, 2020