Airport gyms can be better than sitting in the airport bar while waiting for your flight. Running to catch a flight may be strenuous, but it doesn't accurately count as an exercise routine.
Fair enough, we know most don't know airport gyms even exist.  But we all understand the importance of exercise for maintaining prime health.
Read on if you want to find out where to find airport gyms on your next trip.
There many airport gyms connected to the terminal that has day rates.  While there are airport gyms that offer classes, passengers can drop in and get some fitness on the fly.
Some fitness is better than none. Studies show that shorter workouts are better than longer ones, and 20-minute work can lead to significant benefits – no excuses. 
Airport gyms worth breaking a sweat:
Toronto Pearson Airport, Good Life Fitness
The gym offers luggage storage, extensive free weights, and treadmills. They also have modern change rooms with private showers and lockers.
Reebok shoe and clothing rentals are available.
Location: Terminal 1, Area F,  Arrivals Level
Date Rate: $15 entrance and free for members.
Hours: 4 am – 11:30 pm; 7 days per week
RECOMMENDED: Sweat It Out At The Pre-Security Gym at YYZ Airport
Dubai International Airport,  G-Force in Dubai International Hotel 
Location: If arriving at Concourse C, the hotel is between Gate C15 and C17 (behind the Hotel Reception). If coming from Concourse B,  location is between Gate B16 and B20 (Hotel Level 5).
Day Rate:  1 hour and 15 for 21 us dollars and upwards.
Hours: Open 24/7.
Singapore Changi Airport, Aerotel Transit Hotel Singapore
This transit hotel has a small work out area limited equipment that includes free weights, mats and treadmill, and bike. There is also an excellent outdoor airport pool. You can do some laps.
Location: Terminal 1, Level 3, Departure, Near Gate D41
Day Rate: $13 hour and $7 clothing rental
Hours: Open 24/7.
Zurich Airport
Airport Fitness is run by the luxury hotel Radisson Blu, and the facilities are state of the art. The club's sauna is built in the cockpit of an Airbus.
Location: Radisson Blu Fitness Center on the basement floor.
Day Rate: Must be a guest at the hotel. No day rates.
Hours: 6:00 a.m to 10:00 p.m (Mon – Fri) 8:00 a.m to 8:00 p.m (Sat-Sun, public holidays)
Vancouver Airport, Fairmont Hotel
Location: USA Departures Hall,  located above the Alaska Airlines check-in
Day Rate: $18
Hours : 6:30 a.m- 10:00 p.m
RECOMMENDED: Fairmont Vancouver Airport Gym Packages to Try on Your Next Layover
Dallas/Fort Worth International Airport, Grand Hyatt Fitness Center and Spa
The latest Precor 885 series equipment Precor 885 Treadmill, Precor: Shift Spin Bike, Concept2 Indoor Rower, Exercise mats, resistance bands, and balls. They also have a fantastic rooftop pool to get in some laps. 
Location: Inside Terminal D
Day Rate: $30 (plus tax)
Hours: Day passes are valid between the hours of 9 am-5 pm only.
RECOMMENDED: Airport Swimming Pools: Take the Plunge Towards Some Fitness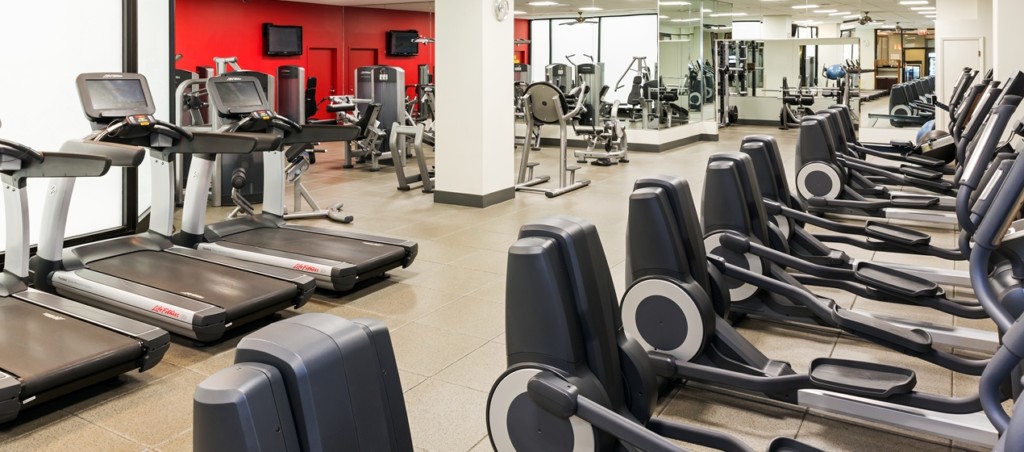 Chicago O'Hare Airport, Hilton Athletic Club
The facility has 23 pieces of cardio equipment, new weight machines and free weights, and an Olympic size swimming pool.
Location: Terminal 2
Day Rate: $20
Hours: Monday-Friday 5:00 a.m. to 10:00 p.m. Sunday 6:00 a.m. to 10:00 p.m.
RECOMMENDED: 10 Ways To Get Healthy At Chicago O'Hare International Airport
Las Vegas McCarran International Airport, ZeroLevel Fitness
Location: Under baggage claim in Terminal 1. Look for baggage claim #10 and take the elevator behind it to level 0.
Day Rate: $25
A day pass grants you access to showers, lockers, towel service, full cardio floor, free weights, machines, and group fitness studio.
Hours: 24 Hours Monday-Friday | 8:00 am- 6.00 pm Saturday and Sunday